Funny Minions Quotes of the Week. Looking for the best funny minion quotes ever! Something new I am trying out here on SliControl. Funniest Minion Quotes and pictures of The week. are you Looking for some of the best funny minion quotes to share with your awesome friends?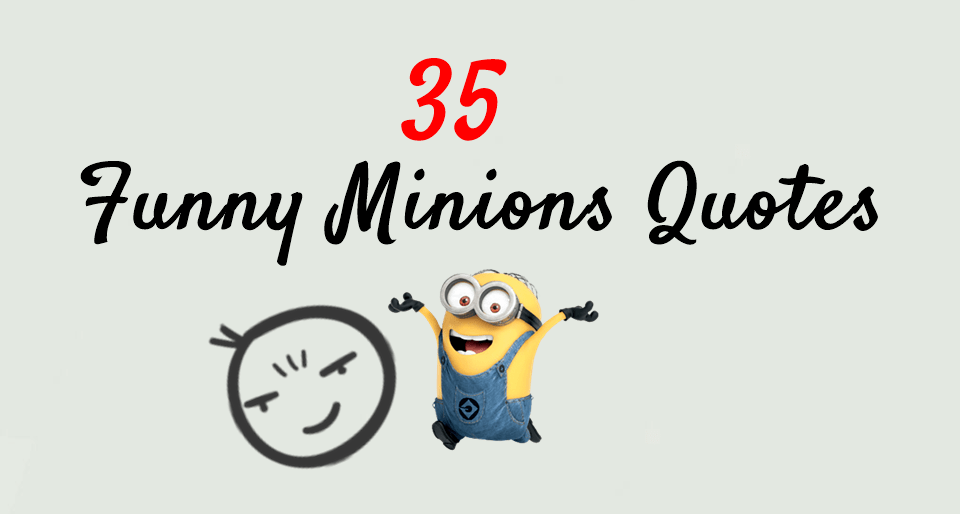 If people like this new addition I will keep it going. Everyone loves minions and these hilarious minion quotes will put a smile on your face! We hope you will love them, make sure to share these excellent quotes with your minion lover friends .. Best 35 Very Funny minions Quotes
Minion Jokes, Funny Minion, Minions Quotes, Minions Love, Minion Sayings, Cute Cartoon, Funny Cartoon Quotes, Funny Cartoons, Funny Memes
Funny Minions Quotes
1. "If stress burned calories, I'd be a super model."
2. "I hate my moods. They never ask permission before they change."
3. "When life gives you a hundred reasons to cry, show life that you have a thousand reasons to smile."
4. "I'm not fat, god gave me airbags cause I'm precious."
5. "Math mental abuse to humans."
6. "Can you die from constipation? I'm a little worried with how full of shit some people are."
7. "Forget who hurt you yesterday, but don't forget those who love you everyday. Forget the past that makes you cry and focus on the present that makes you smile. Forget the pain, but never the lessons you gained."
8. "Sugar is sweet lemons are tart I love you more than a unicorn fart."
9. "I wish I lived in a world where mosquitoes would suck fat instead of blood."
10. "Some people are like clouds once they disappear, it's a beautiful day."
Best Minions Quotes images | Minions quotes, Minions Pictures
11. "Warning when you drink vodka over ice, it can give you kidney failure. When you drink rum over ice, it can give you liver failure. When you drink whisky over ice, it can give you heart problems. When you drink gin over ice, it can give you brain problems. Apparently, ice is really bad for you; warn all your friends!!!"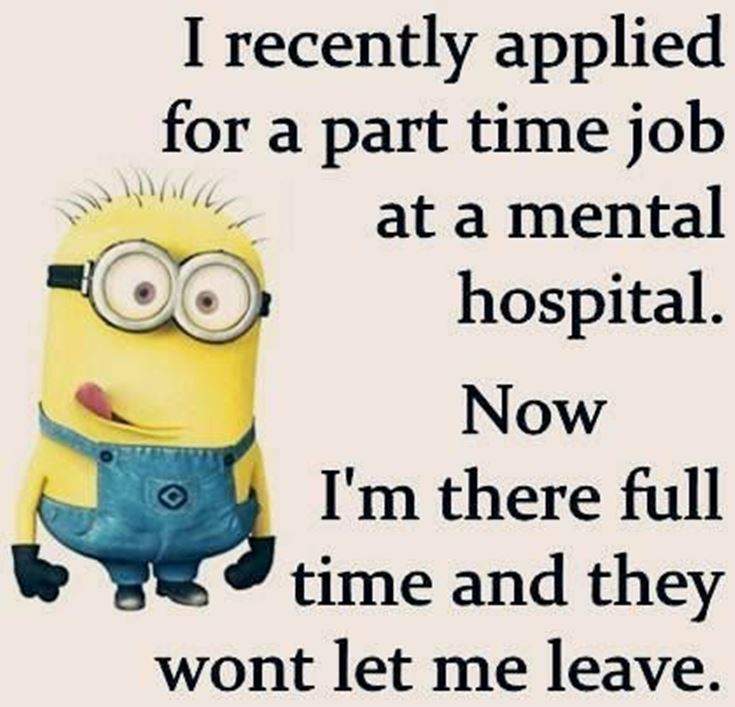 12. "Carrots may be good for your eyes… but booze will double your vision."
13. "Don't mind me, I'm just returning your nose. I found it in my business again."
14. "Never blame anyone in your life. Good people give you happiness. Bad people give you experience. Worst people give you a lesson. And best people give you memories."
15. "Getting older sucks! I used to wake up feeling like a million dollars, now it is more like a bounced check!"
16. "I'm going to retire and live off my savings. What I'll do the second day, I have no idea."
17. "Appreciate the food your mother cooks for you. Some don't have food, others don't have mothers."
18. "At night I cant sleep in the morning I cant wake up."
19. "A pretty face is nothing if you have an ugly heart."
20. "I'm the kind of crazy you weren't warned about because no one knew this level existed."
Funniest Minions Quotes Of The Week
21. "Nobody has it easy, everybody has issues. You never know what people are going through. So pause before you start judging, criticizing or mocking others. Everybody is fighting their unique war."
22. "Today I sent out a text saying, "Hey, I lost my phone, will you call it?" 12 people called me… I need smarter friends."
23. "My cooking is so fabulous.. Even the smoke alarm cheers me on!"
24. "I wonder if chinese tourists get upset when they buy a souvenir from america and then find out it was made in china."
25. "My doctor asked if any members of my family suffered from insanity, I replied, no, we all seem to enjoy it."
26. ""Are you free tonight?" "No, I'm expensive.""
27. "The heart that is meant to love you will fight for you when you want to give up, pick you up when you're feeling down, and will give their smile when it's hard for you to find yours. They will never get strength from seeing you weak, power from seeing you hurt, or joy from seeing you cry. The heart that's meant to love you wants to see the best you, not the hurt you! Never forget that."
28. "I recently applied for a part time job at a mental hospital. Now I'm there full time and they wont let me leave."
29. "You know how you can smack something to get it to work? I wish I could do that with people."
30. "Tonight, before you go to sleep, think of something that makes you smile. There is always something, no matter how bad your day may have been. You will sleep better, you will feel better once you wake and you will face your new day with a positive mind. Take charge of your happiness."
31. "The human body is made up of over 60% water that means I'm not fat, I'm just flooded!"
32. "A women brought you into this world. So you don't have the right to disrespect one."
33. "I love you with all my butt. I would say heart, but my butt is bigger."
34. "Do your ever notice that people would rather stop speaking to you instead of apologizing when they are wrong?"
35. "Of course I talk to myself… Sometimes I need expert advice."
Funny Minions Quotes with images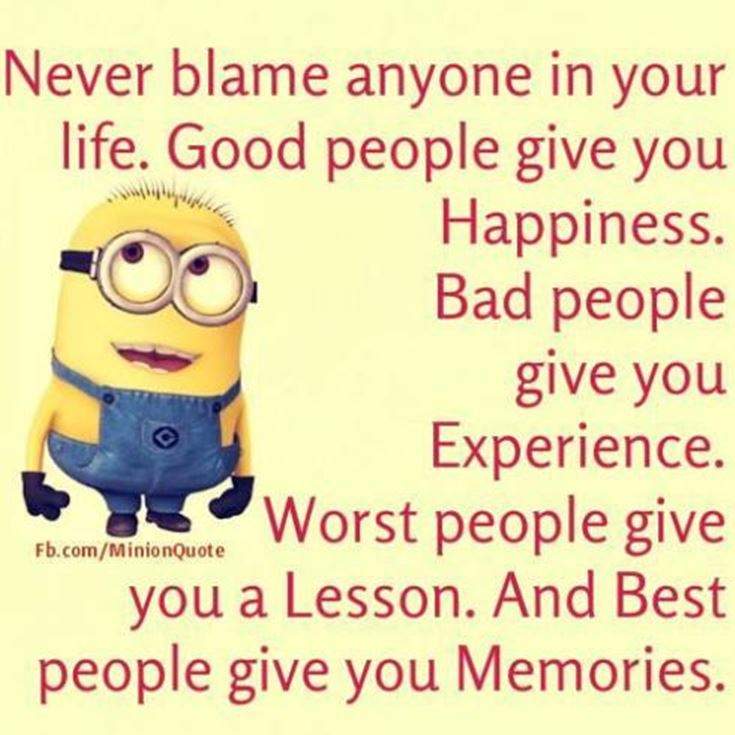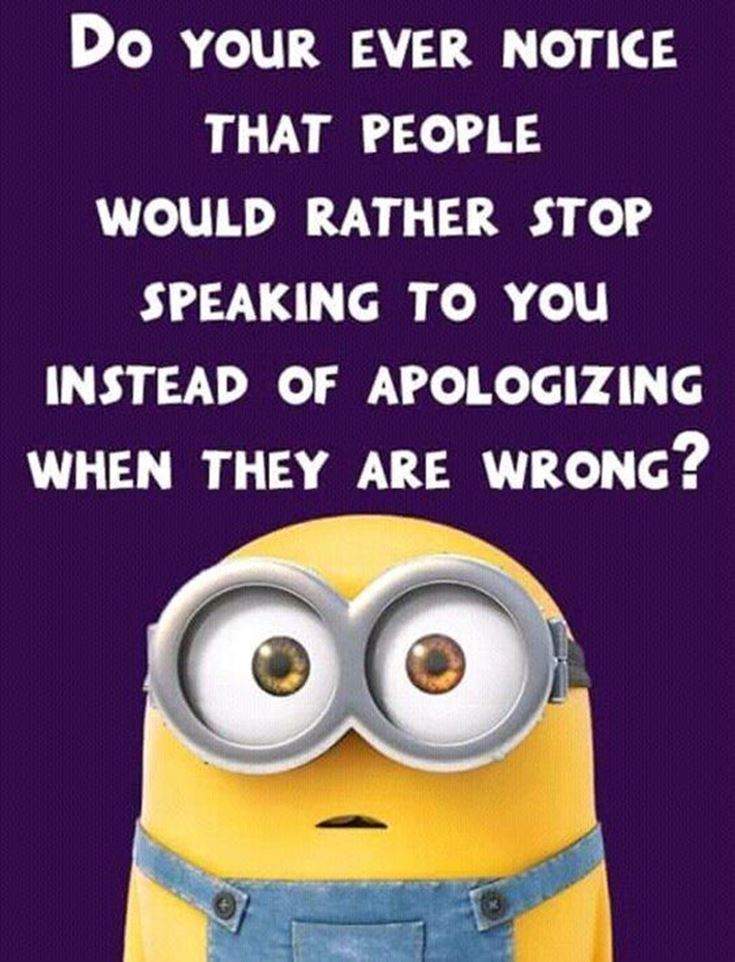 SliControl is a place for people to share daily new funny pictures of the day, images, and many other types of photos. Our committed team of users submitted the funny minion pictures you're currently browsing. See a New funny minion photo you like? You're welcome to reshare the Funny minion images on any of your favorite social networking sites, such as Facebook, Pinterest, Tumblr, Twitter, or even your personal website or blog. Want to save all of your favorite pictures of funny minion, and other photos & images on SliControl? Please share the funny minion picture to your social account for easy access to it in the future. We hope you enjoy this funny minion Pinterest / Facebook / Tumblr image and we hope you share it with your friends. Incoming search terms: Pictures of funny minion, funny minion Pinterest Pictures, funny minion Facebook Images, funny minion Photos for Tumblr.